Franz Schubert: Romantic maestro whose melodies transcend time
The composer who gave us "Ave Maria" was more famous after death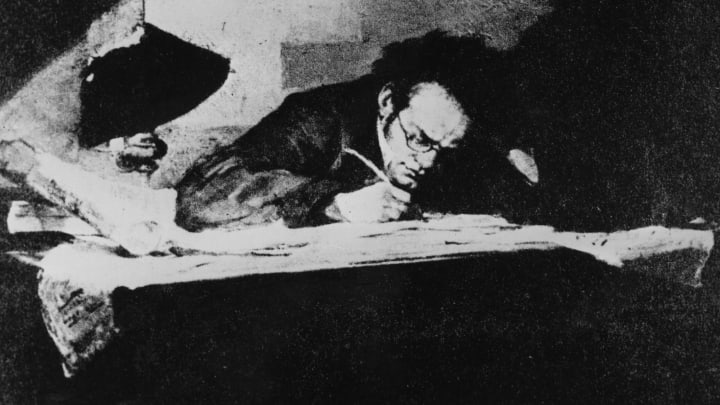 Schubert At Work / Berni Schoenfield/GettyImages
Franz Schubert was a pop star born too early and before pop stars existed. Here's why you should know who he is.
Franz Schubert was an Austrian composer who lived from 1797 to 1828, widely considered one of the most important composers of the Romantic era. Schubert's musical output was prolific, encompassing a wide range of genres, including symphonies, chamber music, piano works, operas, and lieder (German art songs).

Even a composer who was originally a critic of Schubert, Ernst Krenek, came around to believe Schubert was "far from satisfied with pouring his charming ideas into conventional molds; on the contrary, he was a thinking artist with a keen appetite for experimentation."

Franz Schubert was prolific
Schubert was born in Vienna, Austria, and displayed remarkable musical talent from an early age. He received musical training from his father and older brother and later studied composition with Antonio Salieri. Despite his relatively short life, Schubert composed over 600 works, including more than 600 songs, approximately nine symphonies (some were considered unfinished), numerous chamber music pieces, and several operas. One of Schubert's notable contributions to music is his development of the lieder genre, though many modern music fans will know him for his beautiful composition, Ave Maria.
Other music news and analysis
He elevated the art of songwriting to new heights, infusing emotional depth and poetic sensitivity into his compositions, perhaps also demonstrating that showmanship and virtuosity alone don't always create a musical legend. His songs, such as Erlkönig, Gretchen am Spinnrade, and Der Lindenbaum, (The Linden Tree in English), and the Symphonie Rosamunde Sonata remain among his other most celebrated works. Schubert's symphonies, although not as well known as those of
Beethoven or Mozart, are highly regarded for their expressive melodies and imaginative orchestration. His Symphony No. 8 in B minor, also known as the Unfinished Symphony, is particularly famous and revered for its haunting beauty.
Franz Schubert was more famous posthumously
In addition to his vocal and symphonic compositions, Schubert's chamber music is highly regarded. His works for string quartet, such as the Death and the Maiden Quartet, showcase his ability to create
intricate and deeply expressive music within the intimate setting of a small ensemble. Despite his significant contributions to music, Schubert did not achieve widespread recognition during his lifetime. Many of his works were only discovered and published after his death. (Similarly, it's said that Johann Sebastian Bach wasn't world famous until composer Felix Mendelssohn resurrected Bach's St. Matthew Passion in 1829, which was 79 years after Bach's demise.)
His music gained greater appreciation in the decades following his passing, and today
he is recognized as one of the most influential composers of the 19th century. Schubert's music is characterized by its melodic richness, expressive harmonies, and profound emotional depth. His compositions often explore themes of longing, love, and melancholy, reflecting the Romantic ideals of the era.
They embody the words of Novalis: "To romanticize the world is to make us aware of the magic,
mystery and wonder of the world; it is to educate the senses to see the ordinary as extraordinary, the familiar as strange, the mundane as sacred, the finite as infinite."
Franz Schubert and his impact
His ability to capture the human spirit and convey intense emotions through music remains a testament to his enduring legacy as a composer, and he created music every bit as iconic as Beethoven's Ode to Joy. There's a stereotype of classical concerts only appealing high-brow,
aristocratic audiences, but the aforementioned Ave Maria could transform anyone's mood.
Schubert's music is often delicate but is capable of still having your ears dominated by a powerful, muscular style, often exultant and ambitious.